LogiTALKER Electronic Voice Keyer
LogiTALKER Electronic Voice Keyer
Brand:
Ham Supply
Product Code:
LogiTALKER Electronic Voice Keyer
Availability:
In Stock
LogiTALKER From Ham Supply/Idiom Press
Designed by Allen Baker KG4JJH
Save your voice and let the LogiTALKER do the talking!
The LogiTALKER is a stand-alone voice keyer that goes between your radio and your microphone. It uses your regular microphone to record up to four messages, to be played back at the touch of a button. It's the simple, easy-to-use, inexpensive way to save your voice in a contest or DX Pile-up! One message can be set to auto-repeat, which is perfect for running stations, or as a voice beacon, or for calling CQ automatically as a band opens.
The LogiTALKER works with just about any microphone, dynamic or condenser, that has an eight-pin round plug or an eight-pin modular plug. It can be reconfigured for a different brand of radio by reconfiguring jumpers, so your LogiTALKER isn't tied to just one radio.
Features
– Can be easily configured for nearly any modern microphone or radio
– Message #1 can be configured to repeat at any interval from 2 seconds to 266 seconds, or the repeat can be switched off
– Messages are recorded with your regular microphone
– Audio output is transformer-isolated — no ground loops
– Simple front-panel output level control
– Microphone still works completely normally, including up/down buttons etc.
– Message replay can be instantly stopped by pressing PTT
– Messages can be recorded without a radio connected
– Messages can be reviewed over the internal speaker without being transmitted
– Messages are stored in nonvolatile memory – no battery backup
Design
The LogiTALKER was invented by Allen Baker KG4JJH, who wanted a compact and simple device to save his voice in contests. The result was his design that he called the Vocal Keyer, which was featured in an article in the June 2009 issue of QST. With the addition of a few features and a custom enclosure, the Vocal Keyer became the LogiTALKER. The Logi-TALKER is based on an integrated circuit, the HK828, that provides high quality single-chip record and playback. The HK828 integrates many of the components necessary for a voice keyer, including an oscillator, microphone preamp, automatic gain control, antialiasing filter, smoothing filter, speaker amplifier, and nonvolatile memory. Because so many functions are provided by one integrated circuit, the LogiTALKER delivers first-rate performance at a very competitive price.
Specifications
– Overall Dimensions (excluding cables): 1.75″ x 7.375″ x 4″ / 4.5 cm x 19 cm x 10 cm
– Weight: 14 oz / 0.4 kg
– DC Power requirements: 13.8 VDC (nominal) < 200mA
– Microphone Input Voltage: 30mV peak-to-peak, maximum
– PTT contact rating: 2 A @ 30 VDC, maximum
– Input connectors: 8-pin modular (RJ45), 8-pin round "Foster", 2.1mm x 5.5mm DC power
– Output connector: 8-pin modular (RJ45)

Accessories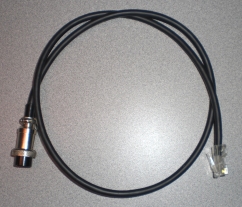 The LT-4 and LT-8 LogiTALKER output cables are shielded cables with a modular (RJ45) plug on one end (LogiTALKER output) and either a four pin or eight-pin round "Foster" plug on the other (radio input). Such a cable is required for radios that have four or eight-pin round "Foster" microphone jacks. The length is 3′ (90 cm).
The LT-RJ LogiTALKER output cable is a shielded cable with a modular (RJ45) plug on one end (LogiTALKER output) and a modular (RJ45) on the other (radio input). Such a cable is required for radios that have a modular microphone jack. The length is 3′ (90 cm).
The LT-P Power Cable utilizing a 2.1mm X 5.5mm DC Jack is also available.